"I want my paintings to make people think about their lives, what they consume, and how they live daily."
By Rise Art | 09 Aug 2022
Lisa-Marie Price has recently joined Rise Art, bringing her portfolio of  abstract, nature, landscape paintings to the platform. As an artist, painter and forager, Lisa-Marie explores the relationship between nature, people and place. She forages natural pigments to create handmade watercolours, priding herself on cultivating a unique connection between the land and her paintings.
How would you describe your artistic style?
I would describe my style as a combination of eco minimalism with a kind of subtle maximalism. I am not entirely sure that is a thing. I create works that are soft and tender but have a serious amount of understated detail in them. I use handmade watercolours that I make using foraged Earth pigments that I collect. Each paint I make is unique; once the rock is gone, that exact colour will never be reproduced.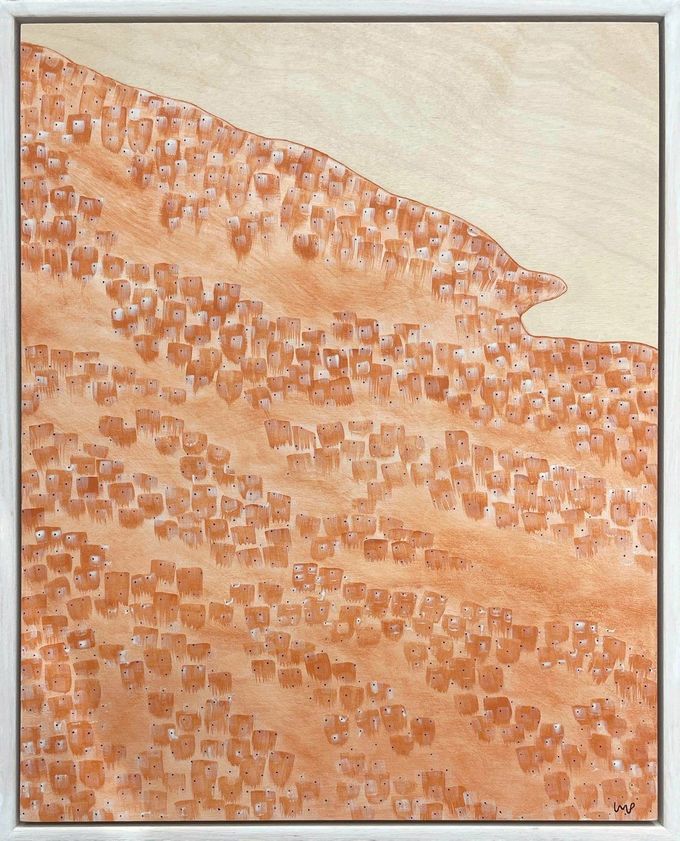 What messages or themes do you want to communicate with your work?
Although my paintings are subtle in their appearance, they examine big topics. Climate change, sustainability, ecology and our food systems are the main motivations behind my work. I want my paintings to make people think about their lives, what they consume, and how they live daily. The relaxing nature and earthy tones of my paintings often make people feel at ease, allowing for a space to speak about harder conversations around our planet and what we can all do to make a difference.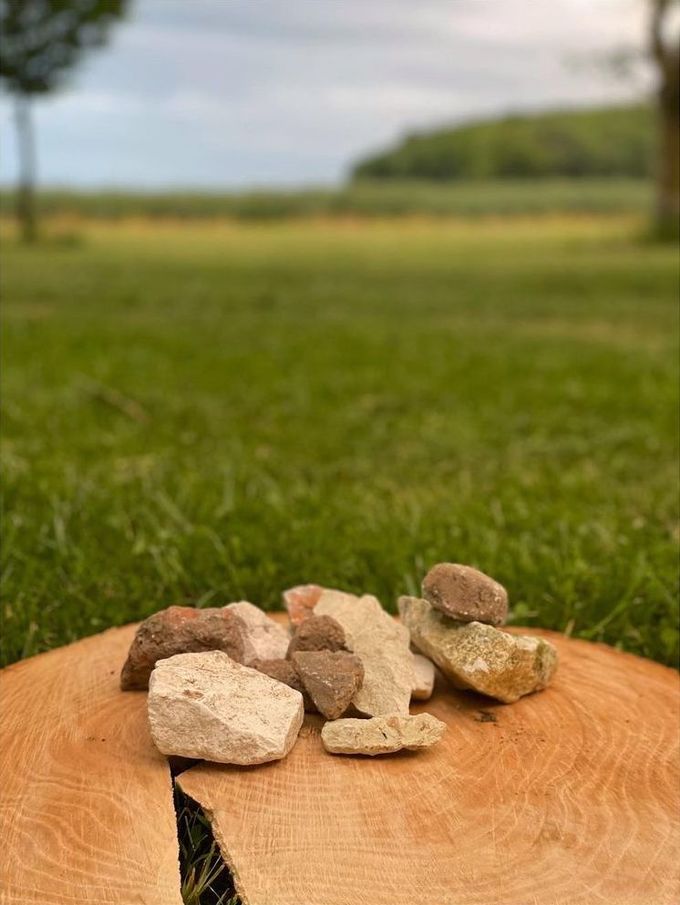 How has your practice evolved over the years? Have you always worked in an abstract style?
I guess I have always worked in an abstract way but my work has changed considerably over the years. At university I was making installations from found objects and wool, carefully wrapping each piece in colourful yarn. As I started to explore my practice, I moved away from installations and into painting and drawing. It was only when I turned vegan five years ago that my practice really took a big turn. I was very conscious of how I was impacting our planet and wanted to do all that I could to minimise my carbon footprint. This is what led me to make my own paints from earth pigments. It means that I am using minimal supplies and this change has made a huge impact on my work and what/how I create. I haven't bought paint for over three years now and I can honestly say, I will never buy shop-bought paint again.
What's an average day like in your studio?
I normally arrive at my studio for 10am, after I have walked my dog for two hours first. I always start my day with a coffee outside. Once the coffee is consumed I check my to-do list for any admin. I like to get the admin done in the morning so I can focus on being creative for the rest of the day. I can't go back and forth between the two, my brain doesn't like it! After admin and lunch, I will get to work on my paintings. What this looks like can vary depending on what projects I have coming up. Currently, I am working on some commissions for an interior design brand. I almost always need to make paint each day. I only ever make small batches of paint and I like to work with fresh paint for each piece. I have a detailed account of all my pigments and rocks, carefully listed and numbered in my pigment book. I check what pigment I need for my paintings and make my watercolours before starting to paint. I normally paint for two to three hours at a time with small breaks in between. And I will almost always have an audiobook playing while I do so. Typically I will head home at around 5.30-6pm.
What/Who are your key influences?
I always find this a hard question to answer. I have favourites but I don't know how much they influence my work nowadays. They were artists that I grew up inspired by and they all hold a special place in my heart and have in some way shaped my progression as an artist. Some favourites are Bridget Riley, Egon Schiele, Eva Hesse, Robert Rauschenberg, Richard Long and Marlene Dumas.
Mostly, our planet and our need to start to take notice and live more compassionately and consciously are my key influencers. I spend a lot of time researching and reading on topics that interest me and influence my work. Be it about climate change, our diet, our behaviours, or politics. All of these factors inspire my paintings on different levels.
Who are some Rise Art artists with work you're enjoying at the moment?
So many amazing artists to choose from!! Here are a few… Nadia Aturra, Chloe McCarrick, Rebecca Hardaker, Markus Krug, Evelyn Morgan, Marianne Hendricks and Genevieve Leavold.
Are you currently working on any exciting new projects?
The second half of this year has gone crazy. I have so many projects coming up and a few are top secret for now. Some of the ones I can tell you about are a duo show with Effie Burns at Art at Home Gallery in Twickenham in October/November. A duo show with Chloe McCarrick at Stour Gallery in Haggerston. I have a solo show currently on at But First, Coffee until the end of August in North London, Harringay. I have two open studios coming up. One in September (Crouch End Open Studios) and one in November (Collage Arts Open Studios). I have a solo show in my favourite bar Brouhaha, Green Lanes in October and I will also be exhibiting two works at The Crypt Gallery in September. And these are the ones I CAN tell you about, there are a few other very exciting things that I can't speak about just yet.