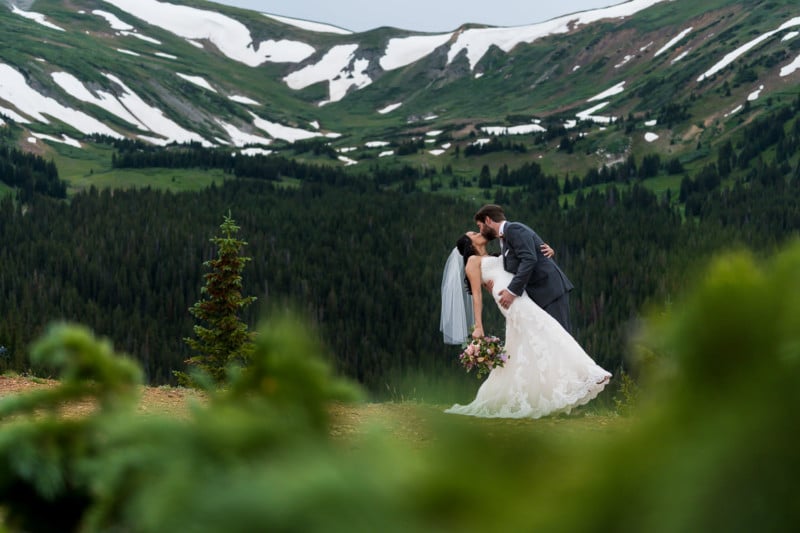 Wedding photography is one of the most challenging yet fulfilling genres of photography, one that will challenge your people skills, technical abilities, and physical stamina. To succeed as a wedding photographer, you will need to become an expert in a wide of subjects, from how to work your camera to how to market your business.
This in-depth guide is filled with wedding photography tips for aspiring wedding photographers. I'll talk you from starting your business and photographing a wedding through to the nuances of marketing, styles, pricing, and contracts. Look out for the ideas that excite you and the vital details you didn't know you were getting yourself into.
My name is Brenda Bergreen, and I am a wedding photographer based in Colorado who has been involved in the industry for the past decade, I have learned the complexity and importance of a genre of photography that terrifies some, bores others, and entrances the rest. Do I have some stories I could tell! For the wedding photographers that survive the learning curve of their first few wedding seasons, weddings provide a deep well of creativity.
Wedding photography is not for everyone. And yet there are a variety of styles allowing each photographer to find their own way of fitting into this specialty. Like most creative things, there are the rules and best practices along with ways to make it your own.
The path is one wrought with the numerous joys and pains of pleasing clients. It's high stakes and high stress because you only get one chance and one day to capture everything important to your couple. And meanwhile, few industries have the pleasure of working with generally happy and excited clients on one of the happiest days of their lives.
Table of Contents
What is Wedding Photography?
Wedding photography is a photography specialty that focuses on capturing the people and events surrounding a wedding. Wedding photography can involve simply capturing a wedding ceremony and group portraits of the bride, groom, and their guests. Or, wedding photography can include capturing everything from the proposal and engagement to the entirety of the wedding day including the reception venue and decorations.
Wedding photographers often are required to have a wide range of skills from portrait photography to photojournalism. The techniques a photographer uses can vary based on their wedding photography style as we'll discuss later in this guide. Maybe you're visualizing formal family portraits, candid one-in-a-lifetime moments, or creative portraiture.
As far as the photography disciplines go, wedding photography is often touted as one of the best for earning actual money with your camera. Your salary will be impacted by a variety of things such as where you live, how much you can charge, and how many weddings you're able to shoot.
How to Get Started as a Wedding Photographer
Starting a wedding photography business is as easy as putting up a website. Sort of.
The best way to get started in wedding photography is to start. My first wedding was for a friend who couldn't afford a photographer. It was a win-win, they got inexpensive photography and I got valuable experience.
Professional photographers don't really like hearing about couples that hired friends to shoot their weddings for free. However, that couple might not have hired a professional photographer anyway. If you would like to develop experience and meet a couple who do not have the funds to hire a professional photographer, it could be a great learning experience.
If you are not an expert at photography, however, a couple's wedding day is not right time to learn the basics. For most photographers, a good route is first becoming a second shooter for a veteran wedding photographer and learning the ropes that way. You can gain valuable experience in both the art and the business without putting people's precious memories at risk of bad or missed photos.
So how do you start a wedding photography business? Photograph weddings, make money, repeat. Sure, it's a little more nuanced than that but times are good for the creativepreneur.
Market your business and find clients. Then, figure out how to photograph the weddings you're hired for. And finally, learn some best practices for running an actual business.
If you're going to be a self-employed wedding photographer, you're not just a photographer. You have a lot of hats that you're going to wear including marketer, website designer, accountant, salesperson, and more. There are many aspects to a photography business and you have to either do them all yourself or outsource.
Utilize a business plan. This means figuring out how you are going to grow, find clients, and make money. You can start by doing a competitive analysis of the other wedding photographers in your area.
Part of the business plan will have you thinking about pricing, which we'll talk more about in a later section. Essentially the goal is to make more money than you spend which means budgeting. Open a separate business bank account to help keep everything separate.
Then, ask yourself how you're going to stand out so that you can get work. Next, let's break down one of the first barriers to starting your business, finding clients. Marketing is a wild horse that we're going to try to tame or understand or maybe even ride.
Five Simple Steps to Starting Your Business
Get started, shoot or second shoot a wedding to get some experience.
Make money, once you start charging for your work you're in business.
Formalize everything with a business plan which will help you understand the business side of things and how to grow a profitable business.
Make it official. Get a business license, open a bank account, etc.
Figure out how to get more clients.
This brings us to the ever-important topic of marketing.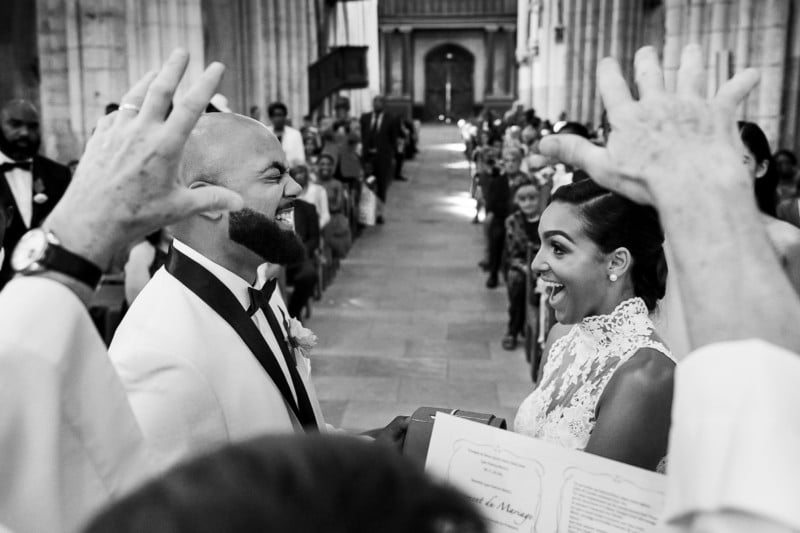 Marketing Your Wedding Photography
You don't have a wedding business until you find clients — couples getting married that are willing to hire you. In most cases, this means learning about marketing wedding photography. Luckily and unluckily there are countless marketing techniques that you can utilize to find clients.
If you were going to search for a wedding photographer, where would you start? Would you do a Google search or go on Yelp or TheKnot? Would you search hashtags or ask your friends who their wedding photographer was?
If you make a list of these ways that couples find photographers you can make a list of ways to be found. Let's talk through some of my favorites:
4 Ways to Get Found for Free
1. Venues have preferred photographer lists. If you're polite, respectful, and fun to work with you can sometimes get on that list. Send the venue some photos they can use on their website and make their venue look awesome. Develop relationships with the site manager especially of venues that have similar ideal clients that you do.
2. Referrals can have a high booking rate whether it's from a friend, past client, venue, or a wedding vendor. No inquiry is more likely to book than someone who met us at a wedding or saw their friends' pictures and loved our work. I always say that serving your clients well will serve you well, our best couples come from our best couples.
3. With a little SEO skill, your website can be found when someone searches for a "wedding photographer in my area." When you build your website you can optimize for keywords that brides search and get found online.
4. Social media and your overall online presence. Do you love blogging or Pinterest or Instagram? A lot of photographers find success by being active on social media and we've even had couples book us saying that they've been following us for a while.
When it comes to wedding photography marketing, you could spend countless hours trying to perfect every strategy. What I've found is that some strategies work better than others depending on who you are. And what strategies work for you might depend on what type of clients you're trying to attract or how you enjoy spending your marketing work.
Let's talk about a few more options.
Finding Wedding Photography Clients for a Fee
Finding wedding photography clients is about discovering where they're hanging out and then going there and offering your services. While you're waiting for your SEO and working on those referrals from vendors and past clients you can look into paid advertisements.
1. Brides hang out in physical locations like bridal shows where you can set up a booth and meet an onslaught of brides actively planning their weddings. It's a little overwhelming and not my favorite thing to do but you have to admit that there's power in meeting brides in person.
2. There are also digital locations on popular websites such as TheKnot or WeddingWire. Brides utilize these websites and other wedding planning blogs to get ideas. Some websites have free listings or premium versions for a more visible listing.
3. You can also run ads on social media or Google or print out fliers to post at your gym or grocery store or coffee shop. Think outside the box and hustle.
There are more places than ever to market yourself and yet there is more marketing being done making it harder to rise above the noise. I think the trick is finding what works for you to either find clients or better yet, help them find you.
Wedding Photography Branding
A big buzzword in marketing wedding photography and finding clients is "branding." It's why some people loyally shop at Patagonia or how certain people identify as Apple users. The idea is to create a brand that attracts the types of wedding photography clients you want to serve.
Therefore, we can go back to this idea of how to stand out amongst the photographers in your area. Often couples are looking for a certain style of photography or a specific personality from their photographer. Or maybe they're looking for someone that fits their budget or edits photos in a certain way.
You can use the idea of branding and defining your ideal client to help you determine not only where but how to market your wedding photography. Use branding to determine what keywords you target with SEO or how to stand out from the competition.
And then you can track all of it. You can track any ads that you run but you can also track where your leads come from and which ones book.
Essential Gear in Wedding Photography
Next, you're going to need some wedding photography equipment.
The first thing you need is wedding photography gear that you can afford. A stressed photographer is not a creative photographer. Having a lot of expensive gear and no income to show for it can stress you out.
Second, you need gear that you know how to use. It's pretty pointless to have a bagful of assets that you don't actually know how to use yet. Start simple and then build, don't get sucked into buying gear that will overwhelm you on the wedding day.
Third, you need wedding photography gear that you can carry. The reason wedding photography has morphed from traditional portraiture to photojournalistic art is that it could. Gear is lighter and faster, allowing us to be everywhere and capture everything… unless we have too much of it.
A Basic Wedding Photography Kit
Camera (preferably with a dual card slot)
Lenses (perhaps a 24-70mm, or maybe a 35mm and an 85mm)
Flash and flash trigger (even beginners have to shoot in a dark reception room)
A light stand (Unless you're shooting everything with bounce flash which isn't always an option)
Ways to carry your gear such as a camera strap or holster and a camera bag.
Accessories kit with spare batteries, chargers, memory cards, lens cloths, and polarizers.
A backup or duplicate of anything that might break! Another camera, flash, etc.
As you gain experience and a level of comfort with your equipment you will add gear. A lot of photographers shoot receptions with a 3 or 4 light set-up which means more lights, heavy-duty light stands, sandbags, and lots of batteries. As your personal style and creativity blossom, you might add light modifiers or specialized lenses.
Finally, don't forget about all the gear and accessories that no one ever sees. You'll need a computer with a monitor you can edit on, software, card readers, hard drives or cloud storage, and more. But start simple.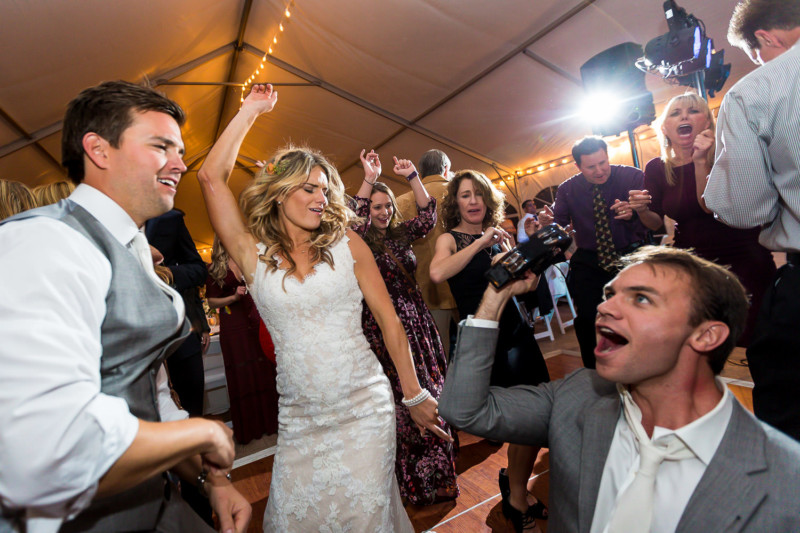 Basic Tips for Photographing a Wedding
Your camera bag is packed, the couple hired you to capture their most important moments, and you found something between practical and professional to wear to a wedding. Now what? Now you have to photograph the wedding.
Let's talk through three basic tips to help you survive that first wedding.
1. Familiarity. First, if you haven't been to a lot of weddings, you may need to familiarize yourself with what happens at them. I'm not a big fan of carrying around creativity-killing shot lists but it is vital that you know what a wedding entails.
2. Service. Second, this is a service industry. Yes, you're an artist and allreme should bow to your creativity. And yet you're there to serve your clients so serve them well.
3. Simplicity. Lastly, don't try to do too much. Simple is best, multitasking is a myth, and you'll do better if you stay calm and focused. Especially when you're a beginner.
I always say that serving your clients will serve you well. If you have positive relationships with your couples you will get referrals and reviews and have an overall better experience.
Critical Wedding Moments Photographers Can't Miss
Look at this list of critical wedding moments photographers can't miss as your deep breath. Instead of panicking that you can't miss these moments, realize that everything else is icing on the wedding cake. Hit these few specific shots and you can relax and be creative with the rest.
I highly suggest keeping any lists in your head short. You're going to shoot everything, you're going to familiarize yourself with weddings and anticipate moments before they happen. Then, you're going to photograph all those moments as they happen.
I keep this list of critical wedding moments photographers can't miss short not because you're only going to deliver 10 pictures. Instead, I keep it short because you're going to nail these 10 predictable pictures and then wow your couples with all the rest of the awesome images you shoot.
Sweet moments with parents
Bride walking down the aisle
Emotions and tenderness during the vows
First kiss
Post-ceremony exit
Group pictures of the people important to your couple
Couples portraits
Dances, rituals, traditions
Speeches
Whatever is most important to your specific couple
Here's a hint: ask your couple. Don't ask them for a list, just ask them what they are most excited about and what their priorities are. If you know their expectations, you'll set yourself up for success.
Do they care more about getting ready or the dance party? Are they super close with grandma? Did they spend 100 hours designing and building the centerpieces?
Lastly, when it comes to moments that you can miss it's important to set expectations ahead of time. If you show your work on a website or social media, the couple will have an idea of your style which will set expectations regarding what types of photos they're going to get.
Where to Position Yourself During a Wedding
Predicting moments comes down to positioning. When thinking about where to position yourself during a wedding, think about being ahead of the moment.
In soccer, you learn to pass the ball to where your teammate is going to be. If someone is running down the field and you pass the ball to where they are, it will end up where they were. Instead, you have to anticipate where they are going to be.
When you think about where to position yourself during a wedding, plan where you need to be for the shot that is going to happen. Anticipating the bride walking down the aisle, you need to be in position to capture that. And next, you can simply turn and capture the groom as he swoons over how beautiful his bride is.
To take the sports analogy a bit further, create a game plan for the wedding day. Where's your couple, what's happening, and what's the best angle to shoot it from?
It's crucial that you scout the venue before the wedding in order to make any adjustments to your game plan. For example, some churches have rules about where you can and can't go during the ceremony which might require you to not only adjust your game plan but get a longer lens.
When you create your game plan you will realize what is realistic for one photographer to capture on the wedding day. And you will be forced to prioritize. You may not be able to get the bride walking down the aisle from behind and from in front.
Choose to accept your limitations and reconfigure your expectations for yourself. You can't be everywhere at once so focus on quality over quantity. Or, work with a teammate.
A Strategy for Positioning Yourself
1. Anticipate the moment before it happens. e.g. The bride is going to walk down the aisle.
2. Position yourself ahead of the moment. e.g. I'm in the aisle near the front so I can capture her as she is walking.
3. Think ahead to the next moment and where you'll need to be. e.g. The groom is smiling and/or crying and the dad is going to hand off his daughter so I need to turn, step back two paces, and capture that.
Having a Second Shooter as a Wedding Photographer
Having a second shooter as a wedding photographer is freeing. Two people can do more than one. Essentially, the best way to be in two places at once is to have two photographers.
From a business standpoint, many couples read online about the advantages of having two photographers. Therefore, they might ask you about hiring a second shooter. If that's something you're able to offer, you can charge for it.
I personally actually have more than a second shooter — I have a partner and a teammate. We're not the only husband and wife wedding photography team that has reaped the benefits of two photographers on a wedding day.
Since I don't have experience working with second shooters all I can say is what I've heard. Second shooting is actually a great way to gain experience, you can shoot a wedding without the pressure of being in charge. And for that same reason, it can be hard to find second shooters with experience and expertise.
Nevertheless, my recommendation is this: create your game plan. Assign your second shooter responsibilities that they can handle based on their skill level. Ideally, you can trust and rely on them to capture what you assign them and that will free you up to do something else.
Alternatively, if you don't know that you can rely on your second shooter you might assign them less important jobs. Or you might assign them less stressful jobs. For example, those demanding detail shots.
How and Why to Shoot Detail Shots
The how and why of shooting wedding details is a surprisingly controversial subject. I know photographers that specialize in wedding detail shots and I know others who refuse to shoot them.
Detail shots can help set the scene and tell the story. A lot of couples spend a lot of money on everything from their invitations to their flowers and centerpieces. Brides often put a lot of thought into their jewelry, shoes, and wedding cake.
However, shooting all the details takes time away from shooting all the people. Valuable time. The photojournalist might think of all of the tender moments that they're missing while they're trying to pose those stubborn shoes and bracelets.
Meanwhile, other photographers know that shooting the details will help them get their wedding published online earning them valuable backlinks and vendor relationships.
I see the wedding detail shots as valuable storytelling elements and great for vendor relationship building while also viewing them as somewhat of a distraction from what's really important. That cake artist spent hours on that cake and would really appreciate a pic for her Instagram.
But the cake artist is not my client. Nor is the wedding planner, venue, or wedding blog that I hope to get a backlink from. And yet, that wedding planner might refer me and the venue might put me on their preferred vendor list.
I think you should shoot wedding detail shots if they are important to your couple, if you have time, and if they will also benefit you in some way such as getting the wedding published or having something to give to the wedding planner or other vendors. If your couple doesn't care and they don't have a lot of details anyway, you don't have to worry about it.
When to Shoot Wedding Detail Shots
If you are going to shoot the details you need to add that into your game plan. Ceremony and reception details ideally need to be shot before the guests arrive and set their drinks on the table or coats on the chair. Other details can be shot in place, such as the flowers in the hands of the bridesmaids.
Here are some examples of how you might plan for when to shoot the details.
1. Getting Ready Details: If I know getting ready details are important to my bride, I'll shoot those right away and get that done so that I can focus on the getting ready moments between the bride and her besties. If I know that they aren't I might instead focus on capturing the details in an overall composition as a storytelling element. For example, the dress shot by itself is less interesting to me than the dress hanging in the background while mom and daughter get their hair done.
2. Ceremony Details: We typically have a buffer time between when we finish with the couple and the ceremony starts. The couple can freshen up and one of us can shoot details. Note that having a second shooter is great for dividing and conquering.
3. Reception Details: If there is a wedding planner, they will often keep the reception room roped off during cocktail hour until the photographer has a chance to shoot the details. In that case, you can do it after you finish family pictures and if you have a second shooter they can shoot cocktail hour candids or vice versa.
How to Learn and Grow as a Wedding Photographer
Let's back up. How do I actually learn wedding photography?
Yeah, but how do I get that soft focus around the shot of the boutonniere? Or how do I pose couples so they don't look stiff and awkward? Or how do I shoot in the dark or if it's raining or off-camera flash?
Photography is detailed and complicated, and there are rules you need to know before you can break them for your creativity. Luckily, there are a lot of places to learn photography skills. This article, for example.
You can also learn by watching YouTube videos or taking online courses or even going to a tradeshow or a workshop. All of those things are great. But, to become an expert you need two things: a growth mindset and lots and lots of practice.
You might have heard of Malcolm Gladwell who shared that on average people need 10,000 hours or 10 years of deliberate practice to become an expert at something. Additionally, Carol Dweck talks about the importance of believing that you can develop your skills through dedication and hard work.
Therefore, when you're deciding what teachers to learn wedding photography from you should look for those that have some natural talent and a decade or so of experience. Then, you should believe in yourself. And finally, you should spend some time in deliberate practice.
An example might be that you set a goal to learn how to understand light. Then you go shoot in a variety of lighting scenarios and practice different techniques. Eventually, you're perfecting off-camera flash techniques and leveling up your work.
Luckily, with our digital cameras, you get instant feedback to track your progress.
8 Beginner Wedding Photography Skills to Practice
Below are some basic photography skills you can learn and practice. You can even practice them by just starting to look for these things everywhere.
Understanding your camera and camera settings. When do you want a small vs larger aperture or fast vs slow shutter?
Knowing the wedding and expectations of what types of images to shoot.
Seeing moments. When does someone's laugh peak? Can you anticipate the smile?
Seeing light. What's the color? Is it soft or hard and how intense is it?
Working with clients and seeing beauty in all of them, every single one. Lots of different, uniquely beautiful clients. (This is a great skill for life too.)
Staying calm when people get demanding or a day gets busy.
Getting solid, clean, consistent, and reliable group pictures.
Little framing details like not cropping people in awkward places or putting trees growing out of their heads.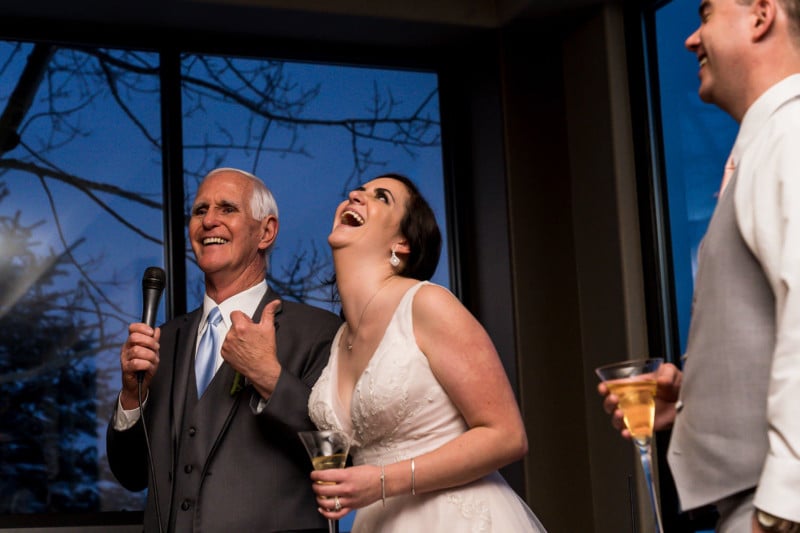 Choosing Your Style of Wedding Photography
As you gain experience in the wedding industry you'll start to recognize the different styles. And as I mentioned earlier, your style will impact your brand and thus the clients that you choose to serve. That's the shift, choosing to serve certain clients.
If you landed on the "wedding details suck" end of the spectrum then you might be looking for a different client than the photographer who is definitely going to shoot all of the pretty details.
Wedding photography styles vary and there's a wide range from the traditional posed and planned to the raw photojournalism. There's also a variety of editing styles, posing styles, and more. You're going to wind up choosing your style of wedding photography based on what enhances your creativity.
If you love creating moody images, you'll start to capture those. Meanwhile, if you're into the details and editorial aspects of weddings then you'll build a portfolio that reflects that. If, like me, you appreciate adventurous couples then you might end up with an adventure wedding photography style.
Wedding Photography Styles
Traditional: More posing, more working from a shot-list
Photojournalistic: More storytelling, more candids
Fine Art: More artsy and dramatic portraiture, often more heavily edited
Timeless: Classic photos that are shot and edited to stand the test of time
Moody/Trendy: Photos shot and edited in a moody or trendy way
Editorial: Lots of details and scene-setting images to tell the story
Adventure: Scene-setting with landscape portraits and adventurous elements
Make your own style, add your own twist: Fashion, film, whimsy, wistful, edgy, romantic, natural, unique, vintage, black and white, aerial, destination, etc.
How to Price Your Wedding Photography
In the beginning, you might price your wedding photography to be competitive. You might want to just get more work so that you can build your portfolio. Eventually, you're going to want to charge enough that you can pay yourself a salary.
The simple math is to add together your cost of doing business with your desired salary and then divide by the number of weddings you are willing or able to photograph. But there's slightly more that goes into pricing wedding photography.
Therefore, the first step is to set a budget. You think you already have a camera so you don't budget for that but then you drop a lens and have to fix it or replace gear when it gets stolen. Oops, cha-ching.
Here are some categories to budget for: accounting and legal fees, advertising, cost of sales (printing, shipping, sales tax), education, equipment and maintenance, insurance, licenses and memberships, permits and fees, office supplies and software, phone and internet, travel expenses, website(s) design and maintenance, health insurance, payroll taxes, salary.
Once you have a rough cost of doing business and a salary goal, you have a target. For easy numbers let's say it's $100,000. Sweet, divide that by $4,000 and you only have to shoot 25 weddings.
Note that some of your expenses grow as your income increases such as album and printing fees and sales tax.
Also, only shooting 25 weddings might sound great but that doesn't mean only shooting 25 days. Not to mention packing, cleaning gear, editing, and time spent marketing to find 25 new clients year after year. You might live in a place where weddings are both seasonal and mostly on Saturdays.
You might be including an engagement session, wedding album design, and numerous meetings with your clients.
How to Design Your Wedding Photography Packages
This brings us to how to design your wedding photography packages. This is going to come down to how you like doing business and how good of a salesperson you are.
You might decide on an all-inclusive package that includes everything the couple needs. This has a higher cost of entry for the couple but they know you're not going to be up-selling them after the wedding day. At least not too much.
Alternatively, you might have a low cost of entry knowing that once they see your photos they are going to open their wallets to order all the prints, products, and add-ons that you can think to offer. Both options require you to figure out how to sell, albeit slightly differently.
Here's what I've learned.
Everyone wants digital files these days. You can charge for them but you should probably just consider that part of whatever your entry-level price. And giving them the digital files feels like it makes it hard to sell prints and products but if you make it easy for your couples they'll still utilize your expertise.
Utilizing an online proofing gallery allows you to give your couples and their guests an easy way to order prints from you. Everyone loves convenience so that can be a great way to add low resistance sales.
The way you structure your packages are going to attract certain types of couples. That's not always a bad thing. It's good to look at what your competitors are doing and consider what you're doing differently that might help the right clients choose you.
Additionally, build your packages to reflect how you like to shoot. You might include the engagement session if you love getting to know your couples or you might do all-day coverage if you're into photojournalism.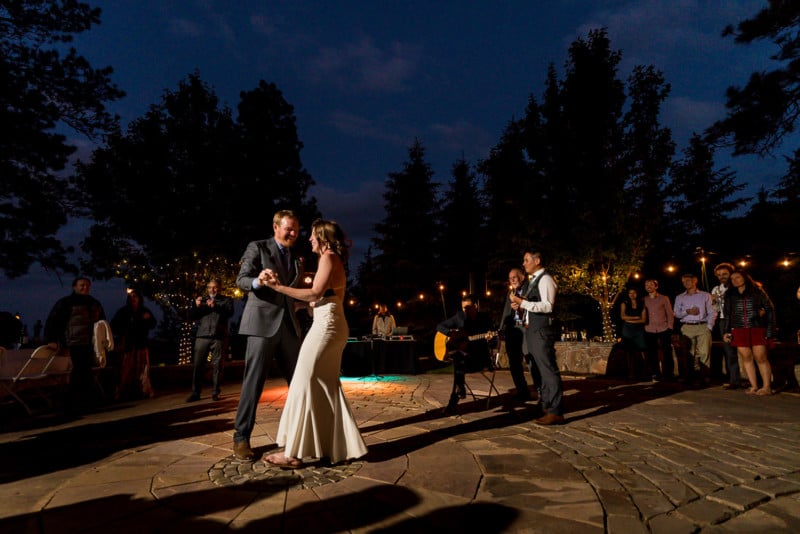 Wedding Photography Contract, Retainer, and More
It would be irresponsible for me to leave you with all of this information without touching on a few other business details. If you book a $5,000 wedding on the most popular wedding weekend in your town, you're going to feel pretty good until you start turning down other work and then your original shoot gets canceled. Hence, the contract and retainer.
We would all love to live in a world where people treated each other as we wanted to be treated. However, take a high-stress and high-expectation day like a wedding day and suddenly there can be some hurt feelings. You need a contract preferably one reviewed by a lawyer.
Think of your contract as kind and clear communication. You can clearly state things like here is what is included, here is what is not, and here are the expectations of each party. For example, in case of a global pandemic…
In addition to having a budget, you'll need things like advice from an accountant as your business gets more complicated. Should you be a sole proprietor or an LLC? And how do you save for retirement? Set up a business bank account and keep your business and personal finances separate.
There are also a ton of tools for client management, tracking sessions, and sending invoices. Being self-employed might mean you need to set yourself some work hours and use to-do list apps.
Conclusion
We talked through a lot of topics in this deep dive into wedding photography basics and tips for aspiring wedding photographers. You should have a good idea of where to start and how to launch your business. As you learn these elements of wedding photography they will become second nature and then you can expand your skills and your creativity.
Wedding photography is challenging and rewarding. Like with any industry, there are things to overcome or look past as well as many things to fall madly in love with. See what I did there?
---
About the author: Brenda Bergreen is a Colorado wedding photographer, videographer, yoga teacher, and writer who works alongside her husband at Bergreen Photography. With their mission and mantra "love. adventurously." they are dedicated to telling adventurous stories in beautiful places.
---
Image credits: Photographs, unless otherwise noted, by Brenda Bergreen