Since joining the royal family in 2011, Kate Middleton has experienced a style transformation that has recently seen her become one of the most fashion-minded and sartorially confident royals since Princess Diana.
From the sleek demure style adopted as a bride-to-be through to the sophisticated confident dressing which helped to save a floundering royal tour, Kate has channeled her aesthetic eye—demonstrated through her passion for photography—into her own regal image. This has been achieved with the help of friend and long-term stylist, Natasha Archer who is married to one of the royals' favorite photographers, Chris Jackson.
Kate has displayed a keen understanding for the importance of controlling and disseminating, at her own pace, an image of royal life. Since the birth of her first child Prince George in 2013, Kate has taken and distributed her own photographs of the royal children, allowing her to control an aspect of royal life which previous generations could not.
Over the last decade it would appear that Kate has extended this process of careful consideration, precise execution and then controlled dissemination to her wardrobe. This shift has been commented on by the fashion press and royal watchers who have described Kate's recent outfits as "cool girl" chic and "worthy of the most glamorous of Bond girls."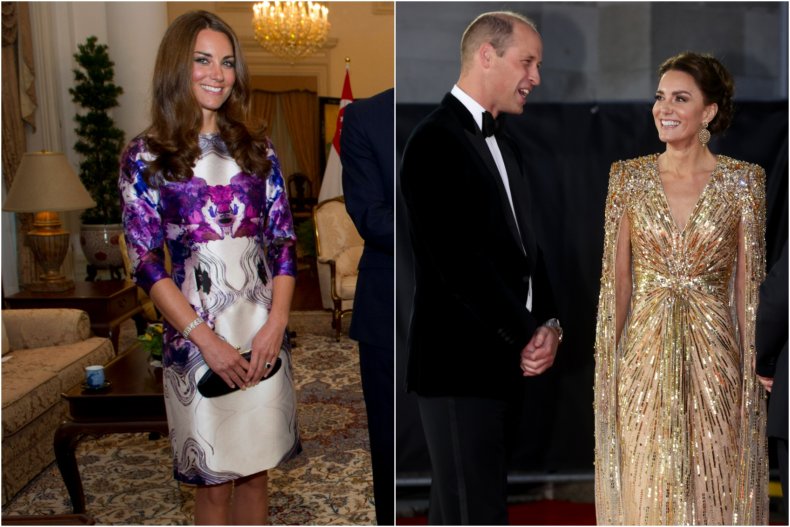 This change brings with it a newfound sense of confidence seen throughout the most recent tour undertaken by the Duke and Duchess of Cambridge to the Caribbean. Though the tour was hit with protests, poorly conceived photo opportunities and criticism online through social media, Kate's bold and purposeful wardrobe helped to create an image that —so far as the royals were concerned—everything was under control.
The strikingly confident new image of Kate was carried over from the tour to her first official engagement since it ended last week. Appearing at the service of thanksgiving for the life of Prince Philip at Westminster Abbey in London on Tuesday, Kate wore a monochrome polka-dot dress by designer Alessandra Rich, with a large statement hat and pearls inherited from Princess Diana.
With a busy year of engagements ahead, including large national celebrations planned in connection with the queen's Platinum Jubilee this summer, Kate will have many more opportunities to display her new-found confidence as the world looks to what she will wear.
The Brands She Relies On
Key to the art of Kate's royal style is the amount she relies on her favorite designers.
Like Princess Diana and the queen before her, the royals who create the most impact with their wardrobes build strong working relationships with a select number of designers and brands.
In the early years of Kate's marriage Jenny Packham was a favorite for evening dresses in very simple lines, usually with lace detailing. For a period of time she moved away from Packham, patronizing designer Erdem on a steady basis.
It would seem now that Kate has returned to Packham with a passion and the British-based designer has created many pivotal pieces which have contributed to Kate's recent fashion renaissance. Packham is the designer behind Kate's "Bond girl glamour" gown which she wore to the royal premiere of the James Bond film No Time To Die.
Packham also created a number of outfits which Kate took to the Caribbean. The first outfit of the tour was a Packham blue lace ensemble in the color of the Belizean flag.
Another brand that Kate has built a healthy relationship with over ten years is Alexander McQueen. This is the house that Kate commissioned her wedding dress from and again, from fairly conservative origins, Kate has grown more confident and daring with the styles she orders.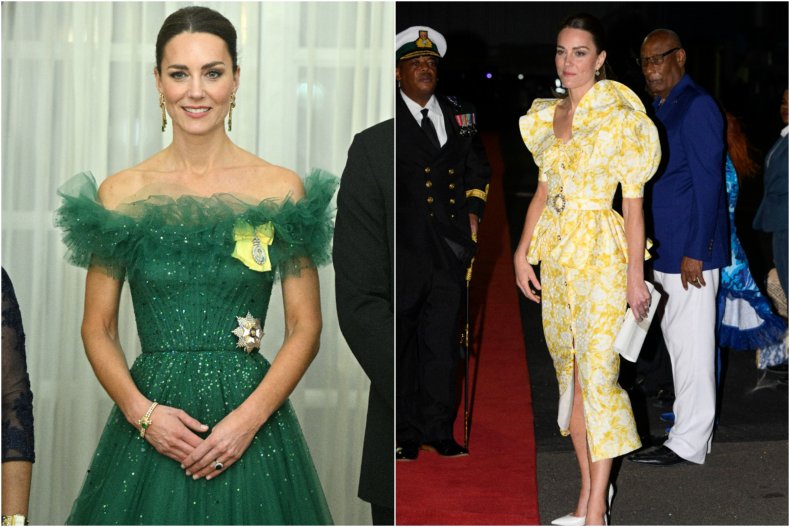 Perhaps one of the brands most closely associated with Kate is Catherine Walker & Co. Founded in the 1980s, the brand became a favorite with the duchess' mother-in-law Diana—with the princess and Walker becoming close friends. Now run by Walker's husband Said Cyrus, the brand is responsible for Kate's famous collection of coat dresses.
A designer who has come to the forefront of Kate's fashion consciousness and whose vintage inspired designs with bold modern twists are helping most of all to reinvigorate Kate's style of late is Alessandra Rich.
This U.K.-based brand is famous for its elegant 1980s inspired looks using bold, modern patterns and prints. Kate has worn the brand for a number of years but has only recently embraced more striking options. In the Bahamas Kate wore a yellow midi dress as the closing outfit for the royal tour and it was a Rich dress that she wore to Prince Philip's memorial service.
The Cost of Looking This Good
How much a wardrobe costs to adequately dress like a princess is a topic which is always hotly debated around the times of royal tours. Most recently it was estimated by the Daily Mail that Kate's Caribbean tour wardrobe cost in the region of $45,000 spread across the seven-day trip.
Though many of her clothes are custom made and therefore impossible to accurately attribute a dollar amount to—keeping in mind any royal discounts that may be applied— Female magazine estimated that in 2021 the duchess wore new clothes with a value of $64,000. This was a reduced figure on previous years owing largely to coronavirus restrictions on royal travel.
The highest annual figure that Kate is estimated to have spent on her wardrobe was $156,000 in 2017. But who pays for it all?
Kate's working wardrobe is reportedly paid for by Prince Charles out of a yearly allowance he grants Prince William from the Duchy of Cornwall. The Cambridge's staffing and other discriminatory official costs are also believed to be paid from this allowance.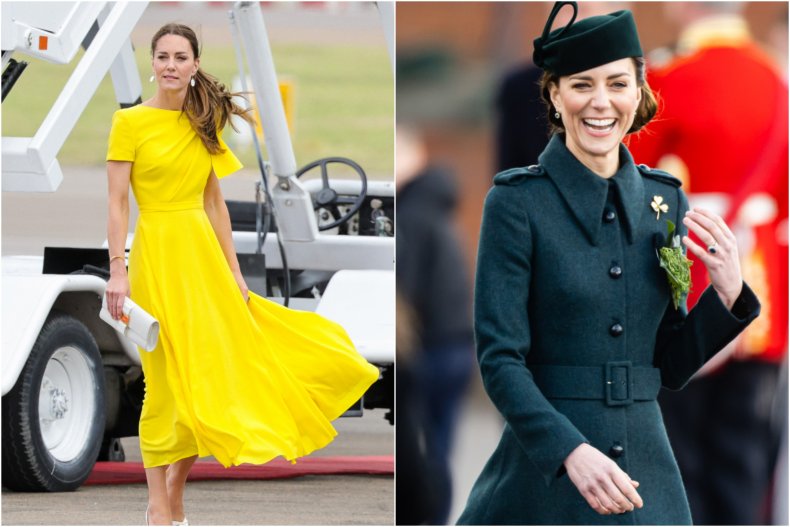 A New Era and Looking To the Future
Moving forward into a year packed with royal events, Kate has set a standard in her dress that signals bold and beautiful things to come.
The duchess' newfound aesthetic, which blends the old style signature of classic British tailoring injected with fun retro references and bursts unapologetic glamour, places Kate on a journey to becoming one of the royal family's most enduring fashion icons and a confident future queen.